As part of our commitment to Corporate Social Responsibility, the environmental impact we have on the planet here at Spicers of Hythe is of great importance to us. We've taken great care to choose our delivery courier, as well as the impact on the planet our packaging materials could have.
Here we have detailed 5 ways that Spicers of Hythe have looked to combat climate change by operating in a more "green" way.
Our Payment Process
ShopPay is a business at the forefront of cutting edge when it comes to transactions online.
Every single purchase you make with Spicers of Hythe removes carbon from the atmosphere with no cost to yourself.

Over 2020-2021 Shop Pay protected over 120,000,000 trees at risk in the Peruvian rainforest.
Over 2021-2022 Shop Pay planted over 4,500,000 trees in Senegal, Africa.
The commitment to the environment doesn't stop there. With direct air capture, ocean-based removal & mobile capture programs their journey is just beginning when it comes to protecting the environment while providing a high quality & efficient service to our customers.
Find out more about ShopPay & their commitment to a greener future on the ShopPay Carbon Removal Page.
Our Courier Services
We've not chosen our delivery couriers lightly. DPD are a green focussed courier service with a huge commitment not only to delivering goods but delivering a minimal carbon footprint.
They made great strides in 2019, delivering over 1,000,000 parcels with their all-electric fleet of vans. Their new target for 2023 is to see this rise to over 100,000,000 parcels. Displaying not only their ambition, but commitment to electric vehicles.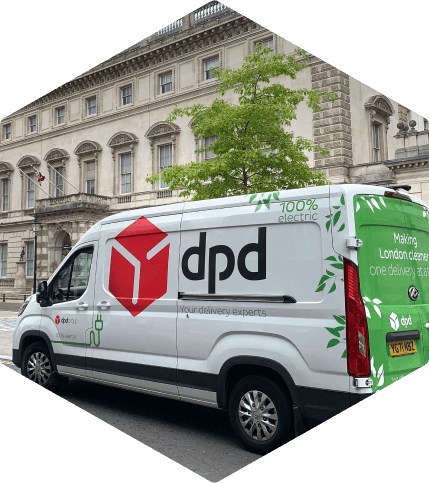 Planting trees doesn't just stop with ShopPay. DPD are planting a tree in your honour for every 10 zero emission deliveries are made to you. That means if you make 10 Spicers of Hythe orders, depending on your chosen delivery address you'll have had a tree planted in your honour.
As a gifting business ourselves, we know just how important packaging can be in the battle against climate change. Our courier DPD have moved to materials that are 80% reclaimed & 100% recyclable.
Their overall mission is to deliver emission free in cities. Investing into electric vehicles & their all electric micro-depots makes sure their next day deliveries get there in a "cleaner, quieter & more sustainable way".
One of the most admirable elements to DPD on their green journey is the level of transparency they demonstrate when it comes to their deliveries, waste & power generated. If you want to know more, why not check out the DPD Green Dashboard.
Our Heating System
Keeping hampers & gifts at an optimum temperature is a crucial part of making sure you get the best products to your door in the best condition.
Wine, chocolate & so many indulgences that make up our luxury hampers require a certain temperature for cooling. Our innovative heat pump makes this possible.
Making use of our North East home, the past mine works by directing warmer & cooler air depending on the need for warmer or cooler conditions. The two Open Loop Water Source Heat Pumps have a combined capacity of 4mW (4 million watts) of heat.
Our Gateshead based warehouse & office is 360,000ft2 of space. Making sure not only your thoughtful gifts & hampers but our office space & employees are at the right temperature for them.  
Our Transport
It's not just our courier service delivering on electric vehicles. Here at Spicers of Hythe we've installed electric vehicle charging points in line with our commitment to reducing our carbon emissions.
Installing our very own charging points has helped encourage an influx of electric & hybrid vehicles across the Spicers of Hythe workforce.
Our Packaging
We always endeavour to keep the amount of packaging required to keep your gifts safe in transit to a minimum.
We're using over 30% less packaging on a huge number of 2023 hampers & gift boxes. This is a figure we want to improve year on year, while maintaining the integrity & safety of your parcel.
It's not just about the amount of packaging we use…
Forest Stewardship Council approved cardboard is the only material you'll find in our shipping boxes. Ensuring that at least one tree is planted in place of every tree required to create the packaging.
One of our more unique packaging processes is adding our "Packing Peanuts". A product coined "EcoFlo", they are made completely from starch. Providing protection for the hamper and all its' contents such as wine, beer & prosecco bottles. This odourless material can easily be reused by yourself or dissolved in water.